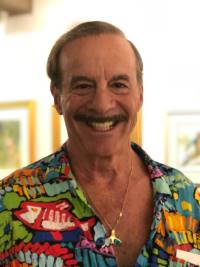 H. Lee Shapiro is a true renaissance man. He is an engineer, past-hospital administrator, artist, writer, inspirational speaker, poet, teacher, counselor, and seminar leader. He is a nationally renowned watercolorist who has exhibited in over 40 galleries across the U.S.
He is best known for his illustration of the international best-selling children's classic, "There's No Such Place as Far Away", written by Richard Bach. He has also designed many world cup posters.
Additionally, Lee has been a relationship counselor for 40 years.  He conducts seminars entitled, "The Art of Melting Conflict in all relationships" around the country.
These are some links to some of his talks and interviews: